The Foodspace is made up of two kitchens, a Teaching kitchen with space for 8 pupils and an instructor and an Industrial kitchen for prototyping and experimenting. Tables in the nearby courtyard provide space for tasting or eating. The kitchens are equipped with a long list of equipment ranging from basic to highly specialized. These include:

Ovens
The kitchens are equipped with Combination Ovens, High Speed Microwave Ovens and an Induction stove. For culinary workshops or smaller scale cooking, 9 portable induction hobs are available in the Teaching Kitchen.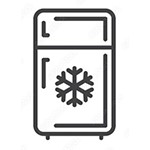 Refrigeration
Several upright fridges and freezers and bench fridges are available for safe food and drink storage and preparation along with a professional Blast Chiller.

Kitchenware
A programmable Bratt Pan, 2-bath deep fat fryers, griddle, pasta making machine, food processors, stick blenders and a pizza counter with refrigerated pizza top can also be booked.

Cookware and Bakeware
Upon request, the kitchen can also provide moulds, baking dishes, scales, pots, pans, ladles, frying pans, knives, mixing bowls and much more.

Cleaning facilities
For the clean-up, the kitchen is equipped with stainless steel deep sinks, hand-washing sinks and a commercial dish washer.
*A food-handling certificate is required for anyone intending to book the Foodspace.